Making Executive Appointments, at Pace.

Capco is a global business and technology consultancy, dedicated solely to the financial service industry. They have over 4,000 employees across 20 offices globally. With a real depth and expertise in their services they are in high demand and as such went through a period of high growth in the UK, Germany and the Nordics.
Having worked with NP Group before, the UK CEO, Germany CEO and Chief Operating Officer in the Nordics turned to us as their trusted talent advisor to appoint Partners and a Nordic leadership team to drive further growth in both regions.
Time was of the essence for these appointments. With Capco's growth objectives at stake these searches could not take longer than three months. That is why Capco turned to NP Group. They trusted us to deliver the high-impact talent they needed quickly and seamlessly, without compromising on quality.
Through Research, Unrivalled Networks and Talent Pooling we Achieved the Following:
CV submission to interview rate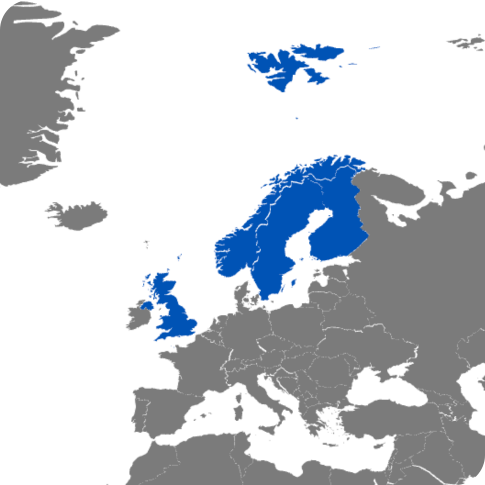 Our growth challenge, and opportunity, is to meet the demand of chance in our core markets and penetrate deeper whilst bringing industry expertise, end-to-end consulting and transformation services to adjacent verticals within financial services. NP Group has worked closely with me to understand our business, designing a go-to-market hiring strategy for Partners. NP Group has successfully executive this strategy with speed, energy and passion, giving me a breadth of choice and outcomes which quite simply has exceeded my expectations. Steve Vinnicombe, Parter & UK Lead, Capco

I am thoroughly pleased with the whole process. It has been transparent, with clear communication, and completely tailored to our needs. NP Group have understood the entrepreneurial flair we look for, and I am absolutely confident those hired will be a driving force in growing CAPCO Nordics. Christer Bergquist, Chief Operating Officer, Capco
The Challenge

Capco, a global business and technology consultancy was going through a period of intense growth. They required a number of Partners and Executives to join their organisation within the UK to support their expansion into new financial services verticals. Additionally, they required a new Nordic leadership team to be built out. With new territory come new challenges. There was no Employee Value Proposition (EVP) no hiring strategy and fresh market mapping was required. The brief from our client was clear however; attract top talent through an outstanding EVP and bring us the top leaders from the sector.

With the stakes high, Capco's UK CEO and Nordic Chief Operating Officer needed an Executive Search Consultant they could rely on to deliver results quickly.

The Solution

From Day 1 Capco had a team of dedicated executive search consultants who specialised in making executive appointments within the consulting industry. This meant they could deliver value straight out of the starting blocks.

We began by working with the UK CEO and Nordic COO to define a strategic executive hiring plan and employee value proposition. In parallel to this, our data-mining team began mapping the talent market; analysing competitor hires and executives, identifying key players in the industry and assessing their openness to new opportunities.

These initial steps put us in a perfect position to deliver a successful executive search campaign quickly. With the background set, our consultants were able to go-to-market and activate their networks with a clear EVP to shortlist exceptional candidates for the available appointments.

From here, we implemented our campaign methodology – a series of high-intensity interview days. By working with the UK CEO and Nordic COO to define the hiring plan and EVP, we were able to secure top talent for the interviews, resulting in a much higher than average application to interview ratio.

The Results

Through our fast-paced Executive Search methodology, we achieved the following:

Shortlist of qualified leaders produced in 5 weeks
UK Market Mapping completed at pace
90% application to interview rate
9 Executive hires successfully made
3 candidates for future appointments
Managing Director, Executive Search
A board level executive, Mark has lead major recruitment businesses through periods of exceptional growth in both Europe and Asia Pacific, across a multitude of disciplines including Technology, Change Management, Supply Chain and Procurement, Banking and Finance. This exposure has him a uniquely global perspective on the talent challenges facing fast growing enterprises. Having operated in the industry for over 20 years, including 10 years in Singapore, Mark is responsible for driving the NP Group Executive Search offering globally. A respected search professional, Mark has been often quoted as a thought leader in the media and appeared regularly on business related broadcasts including CNN, CNBC, BBC, CNA and Bloomberg.