We hire the bold, the creative, and the passionate
Our people are our greatest asset. The vast amount of talent in NP Group's teams is the reason we deliver exceptional results every time, enabling us to be the partner of choice for our clients and candidates. Our exceptional people drive NP Group's agile, adaptive and honest approaches, helping us to be challengers in the market.
We encourage creativity and boldness. We challenge ourselves and work together towards the same goals. We listen to our colleagues and learn from each other. We recognise hard work and achievement and like to celebrate our success together.
As a fast-growing business, we're always on the lookout for exceptional recruiters. Find out what it's like to work at NP Group, what we can offer you and why you should join our team and help our clients navigate through the digital era successfully.
Who is NP Group?

With decades of experience in talent acquisition within the technology industry, NP Group is on a mission to challenge the status quo of the global talent market. We provide bold solutions, creative approaches and, above all, collaboration, forging close partnerships with all our clients. Our specialist brands – Scala Leadership, Zefa and NP Talent Solutions are all experts in delivering high impact talent at pace.

How can I develop my career at NP Group?

We have redefined our entire learning and development programme to ensure that our employees have the opportunity to advance their careers quickly. We're here to support you through your development and provide you with the opportunities you need to succeed. Within each of our divisions, we have clearly defined career paths to support your ongoing progression.

What's it like to work at NP Group?

Our values of boldness, collaboration and enablement underpin everything we do, including the support we give to all our employees. Our focus is not only to deliver outstanding results to our clients and candidates but also to be an employer of choice. Our people are our business and we want you to enjoy coming into work. But don't just take our word for it, check out what our people say about us…

What's the Scala Leadership team like?

We are a fast-paced team, operating in a highly disruptive market with executives who need the right appointment immediately. But we provide the support and coaching needed for every level of seniority joining the team. Our established team is incredibly passionate and always ready to support new joiners to the team.

We're looking for equally passionate individuals with an enthusiasm for building long-lasting commercial partnerships in both existing and new areas. As a global team, we are always on the lookout for new languages. You need a versatile skill set to join Scala Leadership but get it right and you'll be rewarded highly at NP Group.

What's the NP Talent Solutions team like?

At NP Group, we aren't afraid of change. Our NP Talent Solutions team is constantly adapting and evolving, looking to build the business around what the market needs. In reality, this means spotting the technology trends of the future and having an entrepreneurial mindset to capitalise on those opportunities.

We're an ambitious team, looking to be the trusted partner any board member goes to when making a strategic change. This could be entering a new market, launching a new product or entering a new geography. Whatever the change, we want them to come to us first to help equip them with the right skills to facilitate that change effectively, efficiently and at pace.

From providing Managed Services to RPO, we work with internationally recognised businesses where you have the opportunity to make a difference to the client with an incredibly diversified role. This level of visibility within the business means you can have both operational and strategic conversations with the client on a day-to-day basis, helping them to solve a range of problems as they grow and develop. Not only this, but there is the potential to support multiple clients across different industries, cultures and geographies – there really isn't another job like it!

What's the Zefa team like?

Technology & DevOps recruitment isn't just about filling jobs. It's about understanding an organisation's objectives, strategic journey and the reason behind the hiring to make sure that we make the right placements for them. Zefa provides opportunities for our recruitment consultants to work directly with our clients in an advisory context to understand what they need, why they need it and how we can help them.

Given the competitive nature of technology recruitment, we need people who share our passion and ambition to make a name for ourselves in niche fields.

Our clients see us as more than just a recruitment agency – we're a strategic partner called upon as an advisor, as well as a servicing business. It's of paramount importance to have a genuine passion for your specialist area and to have the tenacity to grow and develop with the market, whatever that change may bring.

What's the culture like?

We're a diverse and inclusive organisation and live by our three values of boldness, enablement and collaboration. We have created a culture in which our employees feel enabled to grow and develop, with constant support from colleagues and leadership. Collaboration is incredibly important to us and we bolster our teams through a variety of social events.

We operate a flat organisational structure, empowering our managers to make the decisions that matter quickly. Our leaders sit amongst the teams and are open to change, enabling and encouraging collaboration. From day one, you'll have the invaluable support of internal resources in HR, Marketing, Training and Finance, as well as the whole team at NP Group. We are all here to help support your growth and success.

We also like to have fun and our social committee is always working on new events and activities. We take our best employees for lunch and an afternoon of entertainment every quarter, and to amazing trips every year.

We care for each and all of our employees, which is why we welcome a masseuse into our office every month to help our team feel relaxed, as well as offering work flexibility. In addition, we provide all our employees with healthcare, enhanced maternity and paternity pay, and many other benefits. It is vital for us that everyone at NP Group feels rewarded for their hard work.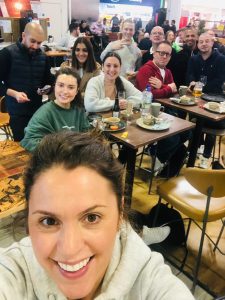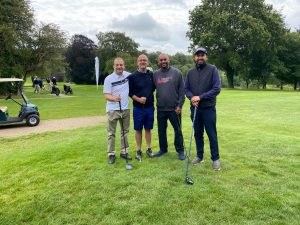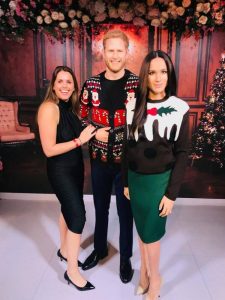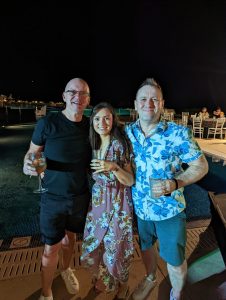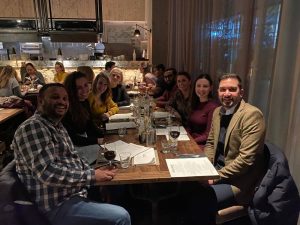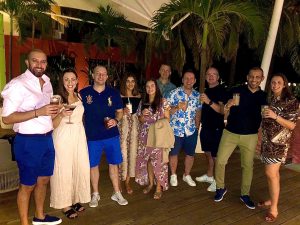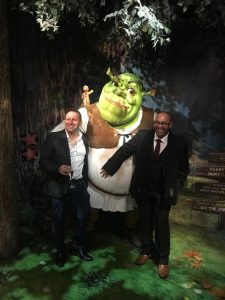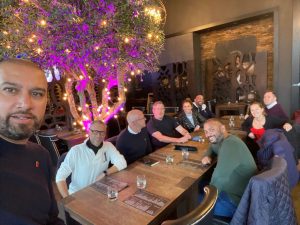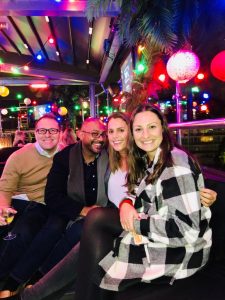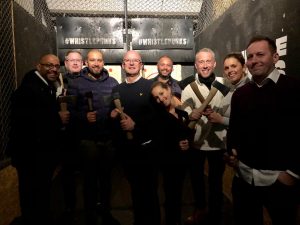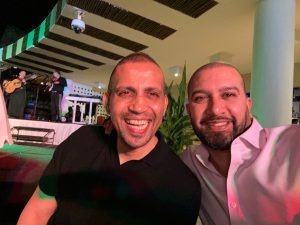 /
"As an HR person, diversity and inclusion has always been a matter of great importance to me. And it feels right to be part of a company which cares about making sure that everyone has equal opportunities of learning and development, but also is diverse and thinks forward. On a personal level, as a woman and a non-national, I always felt that NP Group treated me fairly (I've been promoted five times within my 6 years at NP Group, from a recruiter to being part of the leadership team!) and I have been given the opportunity to grow and develop to the role I always wanted. I also want to replicate the chances NP Group gave me by ensuring that all employees are given all the tools and support they need to reach their ultimate professional goal."
"Being a working mom is never easy, I have been with NP Group for the last 3 years and they have always understood my childcare needs and allowed me to work flexible hours whenever I needed. I am looking forward to enduring more years with NP Group"
"I have worked with NP Group for almost 2 years now. In those 2 years I was given the opportunity to move teams to grow into more of a client facing role, since then, I have continuously been given the chance to develop and I have also been promoted. NP Group are a fantastic company to work for and the sky's the limit irrespective of your nationality/gender/race/age etc"
"A diverse mix of voices leads to better discussions, decisions, and outcomes for everyone." — Sundar Pichai. Throughout my career in the recruitment industry, I can truly say NP Group is one of the companies who have a true drive for Diversity and Inclusion and are passionate about Women in Recruitment. I am honoured to work for a company who has a diverse team with a mix of Ethnic Origins which includes 51% White and 49% BAME or have mixed origin. They have employees who come from different backgrounds, different experiences and thus have different perspectives which leads to a better working environment and provides a sense of belonging to an individual."
"The stereotypical recruitment mantra – work hard, drink harder doesn't align well with my beliefs as a British Muslim. Often, I find myself avoiding work social events as I didn't drink. The people here noticed that and arranged events that didn't involve alcohol as the primary factor (quizzes, golf, bubble football, bounce, squash tournaments at our local gym, even a spot of arm wrestling at some point) they even stocked the beer fridge with 0% alcohol beer for us. This made it easier to socialise with colleagues. The company were also really sensitive to my needs as a Muslim and offered flexibility during Ramadan as well as a place to pray in (if I wanted). I don't think you could have much more of a diverse team than ours (less than 30% SWM). I'd definitely say NP Group is a very diverse and inclusive company."